Project MUSE includes over 700 scholarly and academic journals that are available to users through their libraries and institutions.
Users who are not affiliated with a MUSE-subscribing institution can purchase online articles and issues from a selection of these journals. Article and issue fees are set by each publisher and vary from journal to journal.
How To Purchase Articles and Issues
How to Access Purchased Articles
For content that is not displaying, you may actually have access through your institution. Make sure you that you do not have institutional access before proceeding with a purchase.




If you do not have access to the content through an institution, look for options under "Purchase/rental options available" to purchase the article and/or issue.




When you click on a purchase option, you will be prompted to create a MyMUSE account or sign into your existing MyMUSE account. Once you have logged in, accept the Project MUSE Terms and Conditions and click the "Check Out" button to continue the purchase through PayPal.
Content sales are for the online versions housed on Project MUSE. You will NOT receive a print version.
Journal content labeled "Review" are reviews of books, performances, or exhibitions and do not contain original content. They are usually short in length.




Project MUSE journals sometimes feature very short entries, such as poems, indexes, or book reviews. Look at the page range in the journal information to make sure you are purchasing a full-length article.




Log in to your MyMUSE account for perpetual access to all purchased articles and issues. You can find your purchased content in the "Purchase History" section of your MyMUSE account profile, through search results, or through browsing journal issues.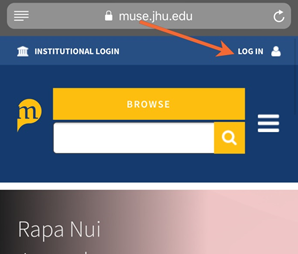 Project MUSE does not offer exchanges or refunds for content purchased through this service. All sales are final. If you have questions or concerns regarding your purchase, please contact Project MUSE Customer Support.